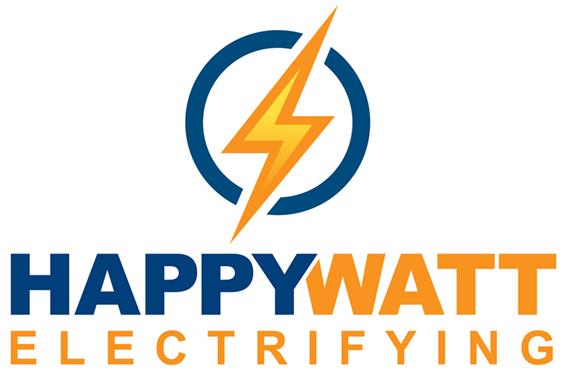 20ft Tiny House Shipping Container
Reconnect to outdoors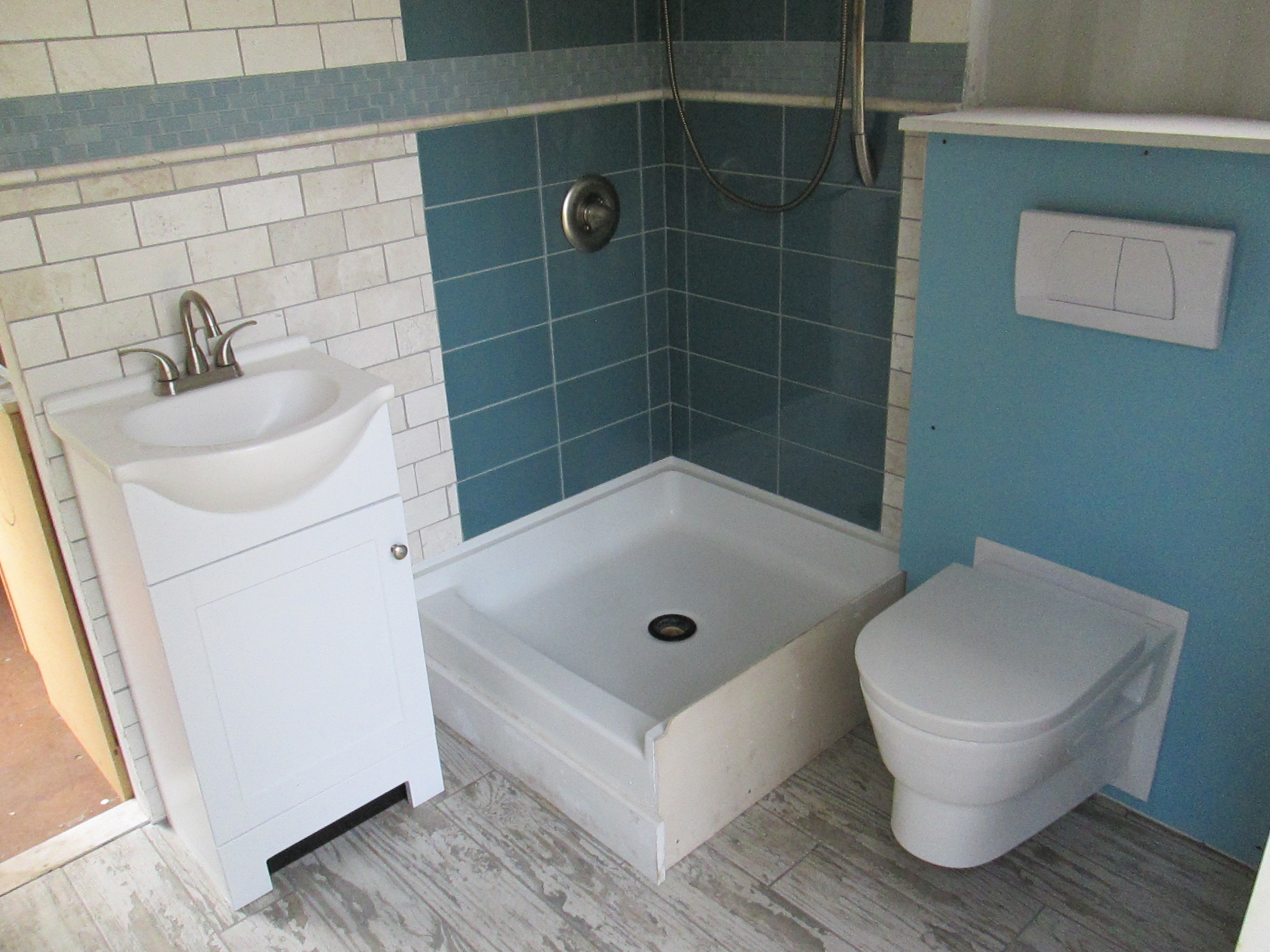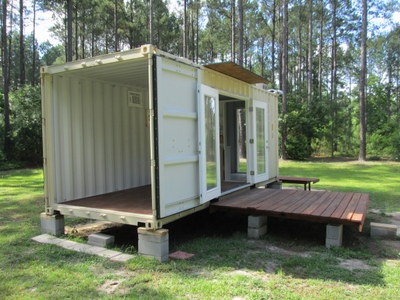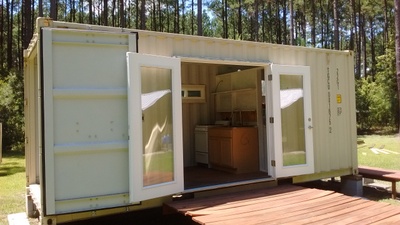 Tiny House Container Concept

- For an extended weekend, 3 - 4 nights
- Off-grid capable
- Kitchenette and full bathroom
- Open-space interior - let the breeze come through
- Fits on a tow truck or on a trailer
- Insulation adjustable to location and season
- Structurally capable to with-stand tornadoes and hurricanes.
- Did we already mention open-space interior?
- Bring your muddy boots inside. It's okay.
1. The core of the tiny house is a 20ft shipping container

- New, or also called a one-way, no dents, paint intact, will last for decades.
- Withstands tornadoes, hurricanes, it will be the last structure standing.
- No critters and bugs crawling into hidden spaces, no chewed and rotten wood.
- Tan color reflects as much sunlight as possible, it works.
- Low maintenance
- Simple to move, on a tow truck or 20ft trailer
- Simple to setup
Want to stay up-to-date on the concept? Contact us!
The idea was simple: To buy an affordable tiny house that could with-stand a hurricane and would have features like an open-space layout and a real flushing toilet. Doesn't exist, so here is the concept:
2. The heart of the tiny house is the kitchenette

We might spend time inside during the day when it rains or when we are hungry.

- 4-burner gas-stove with oven
- Double sink with hot and cold water
- We enjoy the view and the breeze while we cook.

Appliances and cabinets are easily removable, allowing for "behind the wall" inspections.

4.Time to visit the bathroom?

We enjoy outdoors but then when it comes to bathrooms, do we really have to compromise?

- Bathroom is directly accessible from the outside.
- Shower and sink with hot and cold water
- Heavy duty tile floor for the muddy boots, so easy to clean.

3. Cool it down with a breeze!

Doesn't it get incredibly hot inside a car when the sun shines on it?

- Instructions: Open all doors. Wait 5 minutes. Ready to use. It works.
- The hours above 90F are spent under shady trees or at the beach.
- Notice all the space inside?

6. Button Up!

Sometimes we don't return for weeks.

- Tally so far: Direct hit by one hurricane and two tropical storms.
- Damage: A temporary awning blown of the roof. Fixed in 5 minutes.

7. Open Sesame!

Actually, no treasures in here: We designed it for an extended weekend and we pack in and out.

Plenty of room for:
- Foldable tables and chairs
- Ice chests
- Air mattress'


5. We do not consider it a Luxury!
A nice bathroom should be standard.
- Sink, shower and a European style wall-hung toilet
- Heavy duty tile flooring, easy to clean, impossible to scratch
- Easy behind-the-wall inspection
More projects, accessories and gadgets to come ....
8. Off-Grid and Get-Rid!

How much electricity does it take to power three lights, a radio, multiple battery chargers and a bunch of hand-held power tools?

- 2 x100W solar panels, 4 marine batteries and a 1000W 120V-Inverter
- Produces an abundance of electricity
- Battery-powered lawn mower and weed whacker
- Yes, lots of battery chargers

Water system includes
- A 275 gal tote fresh water tank
- Mobile tote waste tank (in foreground). .
- Propane water heater



The Team
Our great interest in the outdoors lead my Dad and I to the challenge of building a Tiny House Container.
We are building a concept home that is practical to use, simple to maintain, and adjustable to the needs of its users.
We currently have three Tiny House Container concepts, one near Savannah GA and two near Egg Harbor Township NJ.
We are looking forward to combine them all in Denton MD this Spring.

9. Let there be shade!
A container doesn't require a roof, however, it is very handy to have a roof frame for:

- Solar panels
- Seasonal insulation panels
- Awnings over doors and windows

The roof frame is firmly attached to the container corners. Multiple lateral beams allow for attachments of accessories. The roof frame disassembles easily and stows inside during transportation. This roof frame is on top of our second container concept, located in Egg Harbor Township NJ.

Naturally, we spend endless hours building and improving. We would like to thank the following people and local business' for their support:

- Mom and my Girlfriend for letting us loose
- Our Savannah neighbors for keeping an eye on the premises
- "Duke" our neighbor's dog for keeping the rooster at bay

in Pottstown PA, for providing supplies

Ridge Pike Pottstown PA and Collegeville PA, for offering a great rate on a rental van and hybrid.
Want to stay up-to-date on the concept? Contact us!
Current Projects: "Insulation and Relocation"
Winter is here. Our second project in Egg Harbor Township NJ is currently getting its insulation inside.

- Relocating and combining all projects at our new location in Denton MD.
- Inside insulation panels will be modular to accomodate individual layout changes
- Inside insulation panels are easy to remove for layout changes and inspections

Upcoming events:
June 15 - 17, DC/Virginia Tiny House Festival, Manassas VA
September 8 - 9, Beverly Regional Airshow, Beverly MA
Come see our Tiny House Container on display!
Please visit our Facebook site for event details.
in Collegevile PA, for providing supplies
"Wow you guys are doing some interesting stuff up there in Collegeville, I've always loved the shipping container houses!" - Peter C.
"I love your concept. I was just thinking about this as I was wondering if their were any little efficiencies in my neighborhood for low income working people. Good Luck and make a gr8 product that is better than a trailer" - Jim S.
"This is an incredible experience. You sold me on "Tiny Homes" - Moyo W.
12. This is how we roll

Our second project in Egg Harbor Township NJ has its own wheels. Our concept is based on two moves a year: From a winter to a summer location and back. The compact design, light weight and low gravity of a 20ft container makes it is easy to move.


- Container sits on a special trailer with interlocks.
- Container can be lifted on and off trailer with simple tools.
- A regular moving truck is capable of towing the container
- Outside accessories like roof frame, solar panels, water tanks disassemble for stowage
- Disassembling and moving can be done by one person
It was great to support Flight4CF's Beverly Airport Family Fun Days event on September 9, 2017
More tiny houses ...
tinyhousetalk.com/

10. Let there be light!

Got to have the Christmas Lights up ...
11. Better than at Home

Our second project in Egg Harbor Township NJ has a refreshing laminate wood flooring:


- Durable commercial grade laminate wood flooring - easy to clean and hard* to scratch
- The laminate wood flooring converts the inside space into a nice room

*And we try hard to damage it: Dirty boots, dropping tools, spilling coffee ...